Filing DS-230 Application for US Immigrant Visa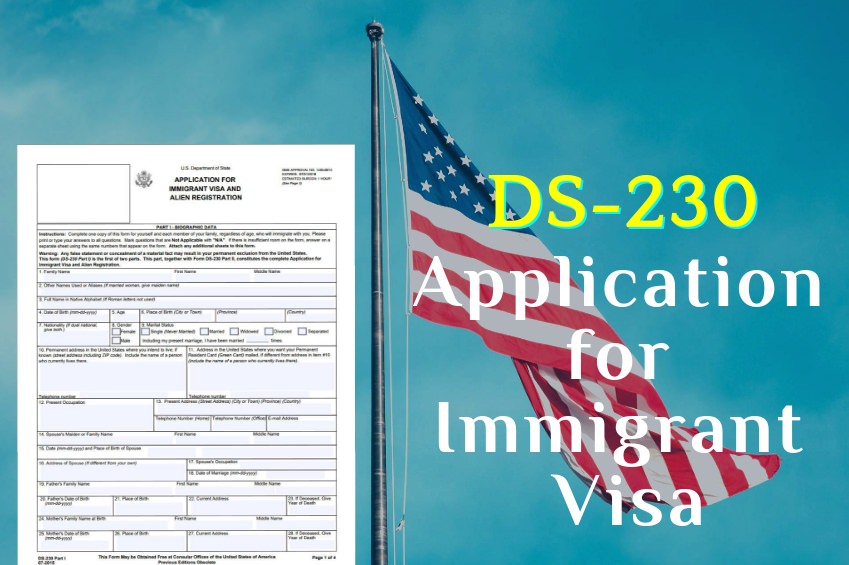 Importance of DS-230
The form DS -230, is an application for an immigration visa and Alien registration, after availing the approval of i-526. The immigrant is seeking for the conditional permanent residence, the same can be done by the filing of DS-230 along with other additional forms such as I-130 in case of family visa, the form DS-3202 which will allow you to choose your agent and after that your petitioner should file the form I-784 with affidavit supports. DS-230 is the first step to be the resident.
How to file DS-230
The form DS-230 is mainly divided into two parts,
Biological Data
Sworn Statement
Biological Data
This part requires for filing with the below information like:-
Name of the Immigrant and family members
Current and potential address of residence
Occupation ( you also need to provide the details of the jobs you had done for past 10 years )
Residential details after you have completed 16 years
Previous military service
Details of previous visits
Each of the above documents should be supported with the original and latest amended -documents.
Sworn Statement
This section contains the details regarding the following facts where you authenticate the following details:-
You have followed US health regulations and don't have any threat to the health of people
You don't consume drug or part of drug trafficking
You aren't spy or terrorist or affiliated with a totalitarian political party
You have gone through all necessary certification procedures and eligible for US residency
Had not tried to enter the US fraudulently or deported from Us
You respect the law of the country and don't plan to break it
The above form should be filled for immigrant and each family member. Further, you need to file medical and criminal papers as evidence for the same.
Essential tips to file DS-230
The followings thing should be to keep in mind while filling the form.
Note down the name and NVC case number on the right-hand side of the each paper.
While filling form don't leave any questions unanswered, the answers should be true and fair.
Double check the address, note the correct address with zip code.
The only first part of the form should be signed. The second part should be signed before immigrant office while visa interview.